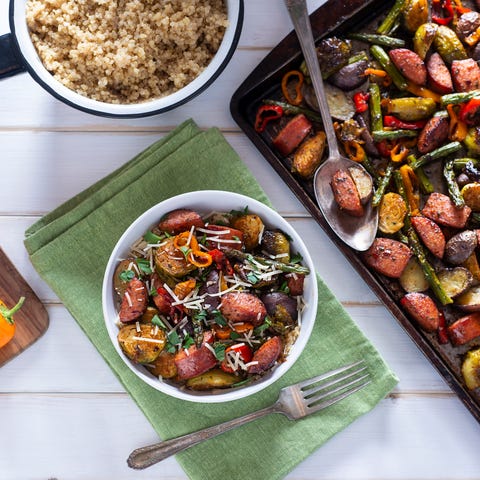 Most guys start the week out with good eating intentions. But as the demands of life start to pile up like dirty laundry, it's easy to lose your appetite for hovering over the stove to get a meal on the table. We get it.
So what is the key to eating well but still keeping your sanity? It's all about old-school meal prepping, or thinking ahead and putting together a handful of recipes and then feasting on them throughout the week. This makes it much easier to stick to a healthy diet and less tempting to dial for takeout or just inhale a protein bar when the daily grind has you feeling like you've gone a few rounds with Creed. That's because all chopping, boiling and searing have already been taken care of. All that's required now is an appetite.
Save time and money while also improving your nutrition score by leveraging these meal prep techniques and corresponding protein-rich recipes. After all, do you really have anything better to do on a Sunday afternoon?
Put a Lid on It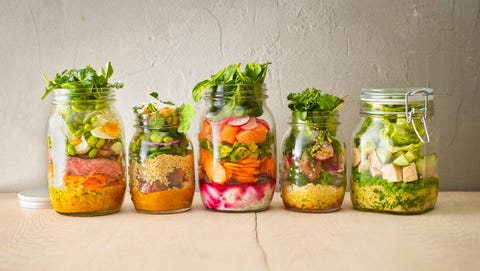 Getty ImagesWestend61
There is no joy in being stuck in a lunch sandwich rut, and a trip around the salad bar can be surprisingly full of nutritional hazards. To reboot your lunch routine, it's time to scrap the brown bag and embrace the trend of layering your salad ingredients into ye olde Mason-style jars for near-instant meal satisfaction.
The process is simple: You prep a dressing, and then dump it into the bottom of your jars. From here, you stack things up by adding your proteins, any cooked grains, hearty vegetables such as carrots, then leafy greens and finally the flavor boosters like nuts, seeds or cheese. Seal shut and boom…you've now got the ultimate pack-and-go midday repast that will help you say sayonara to those weekday #saddesklunches. (There's also no reason why a salad-in-a-jar can't also serve as a fresh tasting, nutritious dinner). And with your delicate greens far removed from the salad dressing during storage, you won't be faced with appetite-killing soggy greens when the lunch bell dings.
Tex-Mex Chicken Quinoa Salad
Makes 4 servings
What You'll Need:
How to Make It:
1. Place quinoa, 1 3/4 cups water and a couple pinches of salt in a medium saucepan. Bring to a boil, reduce heat to medium-low and simmer covered until liquid is absorbed and quinoa is tender, about 12 minutes. Set aside covered for 5 minutes and then fluff quinoa with a fork.
2. Blend together yogurt, oil, avocado, lime juice, chipotle chili pepper and a couple pinches of salt until smooth.
3. Divide avocado dressing among 4 large wide-mouth jars and then top with chicken, black beans, quinoa, corn, tomatoes, scallions, baby spinach and pumpkin seeds. Seal shut and chill for up to 5 days. When ready to serve, simply pour the contents of the jar into a bowl.
Nutrition per serving: 625 calories, 39g protein, 25 g fat, 67 g carbs, 14 g fiber
Put Your Flapjacks on Ice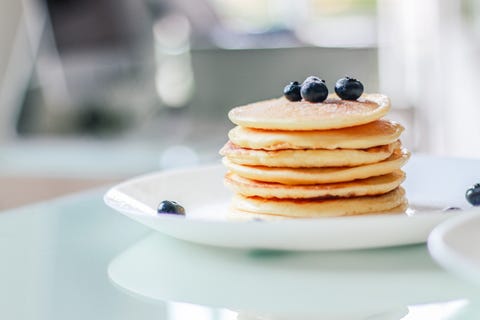 Getty ImagesKrissie Tan / EyeEm
Who says pancakes are only for weekends? Yes, you can luxuriate in a tower of pancakes even on the most rushed mornings. These make-ahead pancakes can go from freezer to tummy in a matter of moments and are a notable nutritional upgrade from the subzero flapjacks and waffles you'll find in the frozen food aisle at the supermarket. Heck, you could squish some nut butter between two thawed pancakes and call it a fast-food breakfast sandwich.
Cherry Cheesecake Freezer Pancakes
Makes 4 servings
How to Make It:
1. Place all of the ingredients except the cherries and walnuts in a blender container and blend until smooth. Stir in cherries and walnuts.
2. Grease a skillet and heat over medium heat. Pour 1/4 cup batter for each pancake into pan and cook until the edges begin to curl inwards and bubbles form on the surface, about 2 minutes. Flip pancakes and cook for 1 minute more. Repeat with remaining batter, greasing pan as needed. You should end up with 12 pancakes. Let pancakes cool completely on metal racks.
3. When cooled, place pancakes on a parchment paper lined baking sheet and place tray in the freezer until pancakes are completely frozen, about 2 hours. Once frozen, transfer pancakes to a zip-top freezer bag and store in the freezer.
4. To reheat, stack frozen pancakes on a plate and microwave for 1 minute, or until heated through. Or defrost and warm them using a push-down toaster. You can also reheat pancakes in an oven or toaster oven set to 350°F. Serve with dollops of Greek yogurt and a drizzle of maple syrup.
Nutrition per serving: 456 calories, 25g protein, 24g fat, 42g carbs, 7g fiber
One Pot Wonder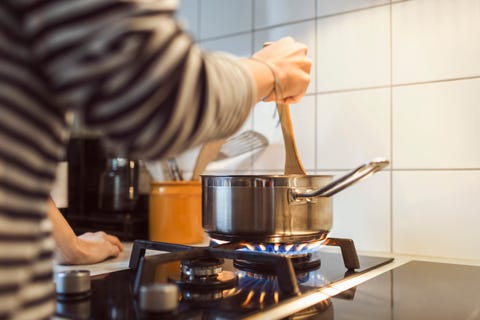 Getty ImagesMaskot
The brilliance of spending an hour or two in the kitchen preparing a huge pot of nourishment (i.e. batch cooking) is that when you get home exhausted after another grinding day, your muscle-building meal is already staring you in the face when you swing open the fridge door. Pick a recipe where everything is prepared in a single pot, and you won't be faced with a sink full of grimy dishes after cooking up a storm. As a delicious bonus, the flavors of items like chili and stew only get better after a day or two. Prep this belly-filling stew on Sunday and reap the rewards all week long.
Beef Spelt Stew
Makes 6 servings
What You'll Need:
How to Make It:
1. Heat oil in the large saucepan over medium-high heat. Add beef chunks and cook until browned all over. If pan is too crowded, brown beef in batches. Remove beef from pan and set aside.
2. Reduce heat to medium. Place onion, carrot and salt in pan and heat until onion begins to darken, about 6 minutes. Add sweet potato, celery and garlic to pan; heat 3 minutes. Add tomato paste, thyme, black pepper and chili flakes to pan and heat 1 minute. Add beer, bring to a boil and simmer uncovered for 3 minutes, scraping up any brown bits from bottom of the pan. Place broth, beef, spelt and Worcestershire sauce in the pan. Bring to a boil, reduce heat to low and gently simmer covered for 35 minutes, or until spelt is tender, adding in additional broth if needed.
Nutrition per serving: 447 calories, 32g protein, 15g fat, 44g carbs, 7g fiber
Soak Your Oats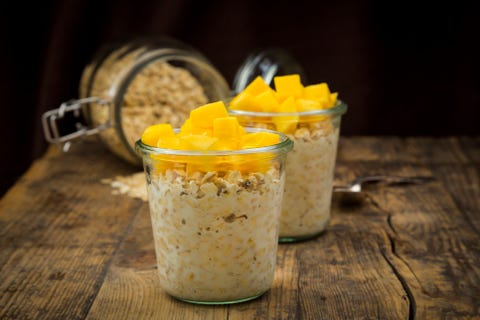 Getty ImagesWestend61
Thinking ahead and prepping your oats the night before is a great way to get out the door in the morning in record time. But who says you have to cook hearty steel-cut oats? Soaking them overnight in hot liquid softens their texture to the point where they are now chewy enough to eat minus the simmer on the stove-top. It's the ultimate instant oatmeal. And you can turn each bowlful into a protein heavyweight by stealthily stirring in some protein powder. Consider doubling or even quadrupling this recipe so that you have a number of morning meals ready-to-go that make it more tempting to linger between the sheets a bit longer.
Mocha Oats
Makes 1 Serving
What You'll Need:
How to Make It:
1. Place oats, protein powder, almond butter, cocoa powder, vanilla, cinnamon and a pinch of salt in a cereal bowl or wide-mouth half-pint jar. Pour in hot coffee and stir contents together until everything is moist. Cover and chill overnight.
2. In the morning, top with yogurt and berries. To eat warm, heat for 1 minute (jar lid off) in the microwave.
Nutrition per serving: 483 calories, 37g protein, 15g fat, 54g carbs, 11g fiber
Smoothie In a Bag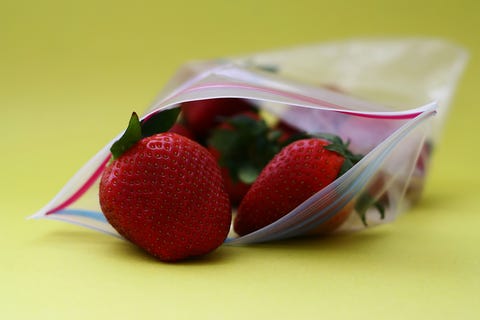 Getty Imagessabrinamillis
When you send the right ingredients for a whirl in the blender, smoothies are a great way to flood your body with muscle-sculpting protein and a range of vital micronutrients. But gathering up all the necessary ingredients each time you want to blend one up can be a major hassle. The genius of this smoothie hack is that most of what is going for a ride in your blender is already bundled up so all you need to do is dump in the contents of a bag along with your liquid and protein powder for a near instant frosty breakfast or post-workout recovery drink. Try doing the same with some of your other favorite smoothie ingredients.
Orange Crush Smoothie Packs
Makes 4 Servings
What You'll Need:
How to Make It:
1. Divide carrots, orange bell pepper, oranges, bananas, ginger and almonds among 4 zip-top bags, seal shut and place in freezer.
2. When ready to make a smoothie, place 1 cup milk, 1 scoop protein powder and contents of 1 bag in a blender container and blend until smooth. If needed, add more liquid to help with blending.
Nutrition per serving: 406 calories, 32g protein, 12g fat, 47g carbs, 7g fiber
Source: Read Full Article