Théo Hernandez was riding through a roundabout in Aix-en-Provence, a city in southern France, on Tuesday when a driver struck him on the right, knocking him off his bike. Upon getting up, he argued with the driver for a bit before they both calmed down, the driver admitted she hadn't seen him, and the two exchanged insurance info.
But later on, Hernandez was surprised to see that Strava, which he'd been using to record his workout, had also logged the crash and its aftermath, appearing as a mess of zigzags at the end of his ride. He posted the results to Reddit, sparking a discussion about rider safety, near-misses, and the condition of Hernandez's bike (not salvageable).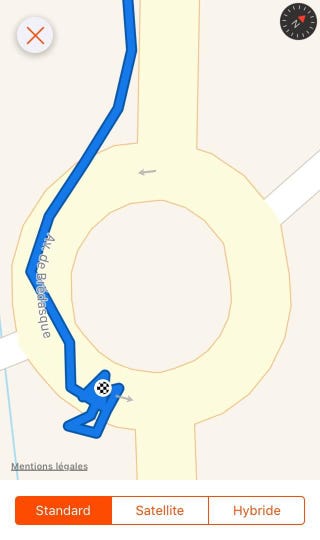 Theo Hernandez
"I was engaged in the roundabout and a car driver didn't see me riding, allegedly because of a combination of the sun being in front of her and her windows/windshield being dusty," Hernandez told Bicycling.
The driver had slowed down at the roundabout's entrance, but then failed to yield and accelerated into Hernandez. He was struck by the left front bumper, under the headlight. "I have a bruise on my right thigh, but I suspect the first point of contact was the frame," he said.
You can see in the app exactly when the collision takes place, as both his speed and wattage show a sharp drop-off. The crash happened about 17 minutes into Hernandez's ride, while he was traveling at 27.4 kph (about 17 mph). Because he only used Strava on his phone, he said he doesn't have any heart rate data.

Theo Hernandez
"Initially, I shouted and insulted the driver under the emotion, and she was a bit speechless and looked a bit shook," Hernandez said. "She pulled over. I picked up my bike, sunglasses, and water bottle that were on the pavement and went on the sidewalk, still angry and shouting. She told me I was going very fast, but then quickly admitted she didn't see me." Strava continued recording as he recovered this things.
Hernandez said he and the driver both calmed down and called insurance. He inspected his bike and thought it was fixable, though he later learned it had been damaged beyond repair. He also realized that he couldn't move his left wrist all the way laterally, and started to feel the pain of road rash on his right ankle, knee, hip, and shoulder.
"Gladly, I didn't hit my head or my back," said Hernandez, who added that the wrist injury was a sprain, not a fracture, and commented that it "could have been worse!" He said he's now negotiating with insurance to cover the loss of the bike.
New to road riding, Hernandez said he'd been bike commuting for a few months out of the past couple of years, but only started to ride for pleasure in January. He also enjoys mountain biking. According to Strava, he covers about 100K per week over an average of 5 rides, mainly on country roads.
"This is my first crash on the road ever," Hernandez said. "The response on the cycling subreddit was very friendly as always."
From: Bicycling US
Source: Read Full Article