Jennifer Lopez officially made it to the end of her no-sugar, low-carb 10-day challenge—and it looks like she and boyfriend Alex Rodriguez totally crushed it.
"It's day 10, we did it, we're here," J.Lo said in her latest Instagram Story about finally finishing her diet challenge. "We still have the rest of the day, but I'm feeling pretty good that we can finish." (FYI: J.Lo posted this video after her workout, so the rest of the day on this challenge should be a breeze).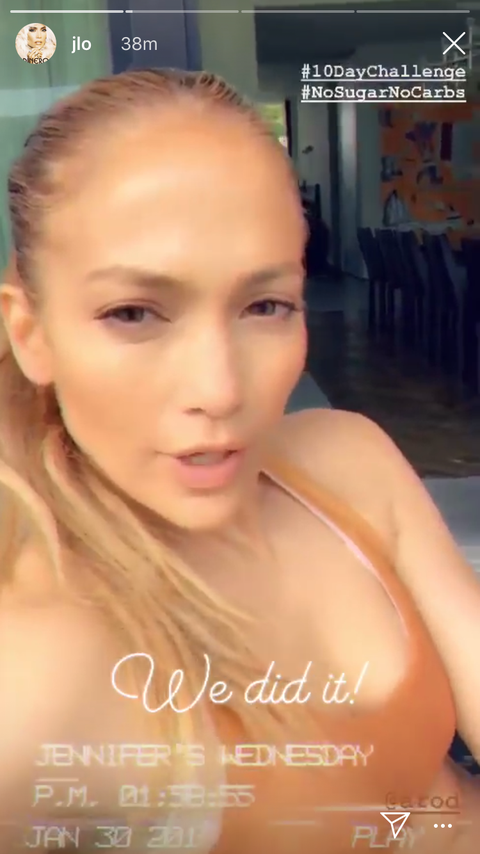 Jennifer Lopez / Instagram: @jlo
J.Lo admitted that the challenge hasn't been easy. "Alex and I have struggled through," she said. "Anybody who stuck with us through the whole 10-day challenge, congratulations."
J.Lo also gave a special shout-out to Hoda Kotb, who is currently on Day 6 of the challenge. "Hoda, you're still on it…you're a beast, you're a savage," said J.Lo.
She's right. Earlier today, Carson Daly dared Hoda to take a bite of something carb-heavy on the TODAY show (it looked like coffee cake), and he'd donate $5,000 to a charity of her choosing. But Hoda refused—instead, she donated $5,000 of her own money to charity (so did Carson…and so did J.Lo and A.Rod).
View this post on Instagram
When you stand for something, you make beautiful things happen. 💪🏼 Alex and I will match your donation @carsondaly @hodakotb! A lot can happen in 10 days. ✨ By the way, is it me, or does Hoda look amazing?!!! #PayItForward #10DayChallenge #Day10
A post shared by Jennifer Lopez (@jlo) on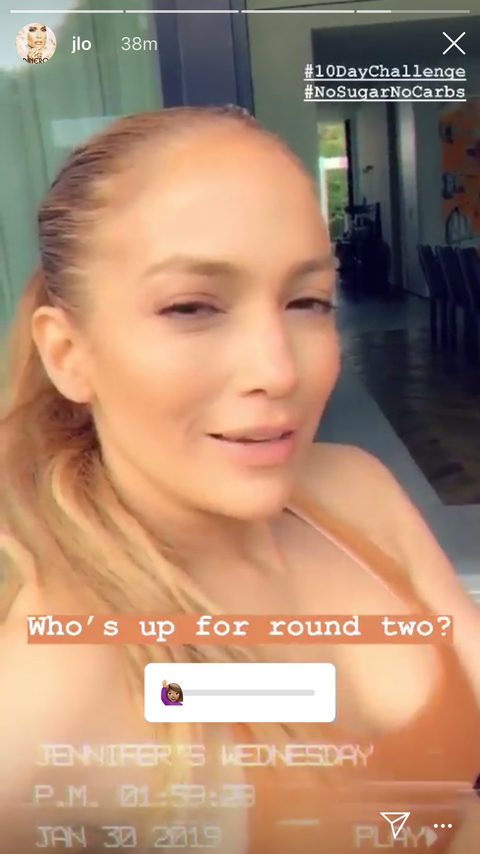 Jennifer Lopez / Instagram: @jlo
But here's the craziest part: "Maybe we'll stop for a few days and then get back on it," said J.Lo. Yes, she (and possibly A.Rod?) will be going for round two of this 10-day diet challenge at some point. "Some of you can join me for a second round," she said.
So yeah, J.Lo (and A.Rod) have successfully gone 10 days without sugar OR most carbs and came out the other side—and they look amazing. (Have you seen her abs? Even J.Lo's ex, Diddy, gave her some heart-eyes on Instagram.)
"Super happy, super proud; we did it," said J.Lo.
Source: Read Full Article