Dr Megan Teychenne is a behavioural epidemiologist at Deakin University's Institute for Physical Activity and Nutrition. She says there are far worse things you could do for your health than only walk.
Dr Megan Teychenne from the Institute for Physical Activity and Nutrition at Deakin UniversityCredit:
The Australian Physical Activity Guidelines recommend that adults who prefer moderate-intensity exercise do so for between 150-300 minutes per week (2.5-5 hours). It is important that the pace is brisk. Those who prefer vigorous exercise (jogging, for example) can get away with 75-150 minutes. If you were walking at a vigorous intensity. "you would be interrupted in conversation to catch your breath".
Either way, as long as you're doing enough minutes (and it's better to spread your minutes over most days of the week), then you're reducing your risk of heart disease, type 2 diabetes, some cancers, depression, anxiety and insomnia, and premature death from all causes.
"What we know is that many people don't enjoy vigorous exercise and not everyone is able to," says Dr Teychenne. "Ability and enjoyment are two key factors determining whether someone will stick to an exercise regime so the really important thing is that you choose an exercise that you enjoy."
Dr Teychenne says one area where walking may not be enough is in building muscular strength, particularly important as we age. You can increase the muscular workout you get from walking by carrying a backpack and incorporating some hills into your walk.
GREAT MELBOURNE HIKES
Here are nine great big walks you can do right here in Melbourne. Some are iconic walks, some were suggested by followers of Victoria Walks' Facebook page, and some were highlighted by those interviewed for this story. Most of these walks can be accessed on public transport. Find the route maps, photos and more information at Victoria Walks' walkingmaps.com.au/
STEVE FRAZZETTO'S GREAT MELBOURNE PARKS HIKE, 11.5km
Start and Finish: The Shrine of Remembrance to Flemington Bridge station.
Highlights: Royal Botanic Gardens, the lovely Morell Bridge over the Yarra, Melbourne's sport arena precinct (including MCG), Fitzroy Gardens, Carlton Gardens and Royal Exhibition Building, Lygon Street coffee and cake pitstop, Princes Park, Royal Park.
INNER-YARRA HIKE, 16km
Start and finish: Fairfield Boathouse to Federation Square
Highlights: Breakfast at Fairfield Boathouse, Dights Falls (where the Merri meets the Yarra), Collingwood Children's Farm, Abbotsford Convent, Corroboree Tree (Burnley Gardens), along the Yarra to Federation Square.
Shorter version: Fairfield Boathouse to Abbotsford Convent.
PHOTOGRAPHER'S MELBOURNE: Yarra River, laneways and street art, 8km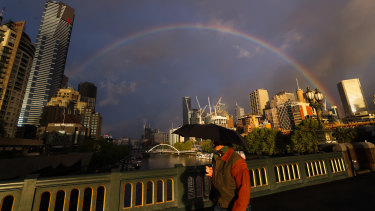 The sun rises over the Yarra River.Credit:Jason South
Start and finish:Start at Morell Bridge. Follow the Yarra on the Botanic Garden side all the way to Seafarers Bridge (South Wharf). Head back to city along the other side of the river. Finish at Birrarung Marr.
Highlights: Tour the CBD's laneways and street art.
(This walk was suggested by Jim Zapsalis, who walks this route to work to capture the city's photogenic side. His photos can be found at Instagram @walking_perspective and https://walkingmaps.com.au/walk/4360.)
SIMONE ALEXANDER'S PORT PHILLIP BAY HIKE: Williamstown to Altona Pier, 12.5km
Start and finish: The cenotaph on Williamtown's Nelson Place to Altona Beach.
Highlights: Coastal parks (Point Gellibrand, Jawbone Marine Sanctuary and Altona's coastal park). Alexander also likes grittier sites, such as the Mobil refinery. The keen-eyed might spot remnants of a horse racing track. Take a dip at Altona Beach.
CAMBERWELL TO ST KILDA PIER HIKE, 14km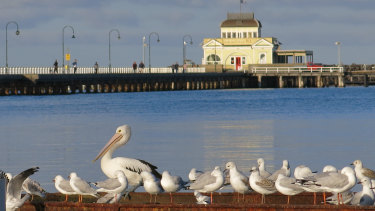 St Kilda Pier makes for great people (and pelican) watching.Credit:Leigh Henningham
Start and finish: Camberwell Junction to St Kilda Pier
Highlights: Old homes of Camberwell and Hawthorn, Gardiners Creek trail to the Yarra, the Royal Botanic Gardens, Fawkner Park, Albert Park Lake, St Kilda's Catani Gardens.
MIDDLE-YARRA HIKE: Templestowe Lower to Eltham Station, 13km
Start and finish: Wombat Bend Playspace to the Eltham shops and train station.
Highlights: Westerfolds Park, Lower Eltham Park and Bushland Reserve. Griffith Park and Sweeneys Flats. Wander past Montsalvat. Diamond Creek trail, Alistair Knox Park, historic Eltham trestle bridge.
MELBOURNE'S BAYSIDE BEACH HIKE: Brighton to Port Melbourne, 12.5km
Start and finish: Middle Brighton station to Station Pier in Port Melbourne
Highlights: Brighton Bathing Boxes, Elwood Beach, St Kilda Beach, South Melbourne Life Saving Club. In true Melbourne style, you may also want to feast on fish and chips at Station Pier. (Steve Frazzetto recommends D'Lish Fish).
MERRI CREEK HIKE: Coburg to the City (via Fitzroy), 10km
Start and finish: Harding Street bridge on the Merri (Coburg) to the CBD.
Highlights: A pretty, green stretch of the Merri. Stop at CERES (environment park) for lunch. Inner Circle rail trail in Fitzroy North to Edinburgh Gardens. Stroll along bustling Brunswick Street, through Carlton Gardens then past Parliament House and into the city.
DANDENONGS SUMMIT CIRCUIT HIKE, 14km
Start and finish: Olinda Recreation Reserve to Olinda
Highlights: R.J. Hamer Arboretum, Olinda Falls. Views over Melbourne and lunch at SkyHigh cafe. Lyrebirds and lush greenery aplenty. (Note: This walk links up several smaller tracks so equip yourself with a detailed map.)
Source: Read Full Article