UPDATE: February 27, 2019 at 12:38 p.m.
Oreo fans, lace up your shoes—it's time to SPRINT to Sonic. The fast-food restaurant announced last week that the crazy-good Double Stuf Oreo cone is back in stores for a limited time.
If you didn't try it last fall, I implore you to do yourself a favor and go get one of these the next time you're craving ice cream. It comes in a chocolate cookie cone with sweet Oreo creme drizzled inside, Sonic vanilla ice cream, and more Oreo creme and crushed Oreos on top. What more could you ask for?!
The cones retail for $2.49 and can be found in Sonic restaurants now, along with fried Oreos served with ice cream because Sonic is clearly on an Oreo kick right now.
It's BAAAACK! The Double Stuf @OREO Waffle Cone will make all your cookie and créme dreams come true. 🍦🍦🍦 pic.twitter.com/Jdl8R08MRI
UPDATE: September 7, 2018 at 3:45 p.m.
Sometimes, restaurants and food brands like to tease new products waaay in advance—like when Sonic announced a crazy new Double Stuf Oreo cone coming to stores back in JUNE. As of this week, though, the Oreo-filled cone is finally in stores.
ICYMI, the dessert brings together a chocolate cookie waffle cone coated with sweet Oreo creme, Sonic ice cream, more Oreo creme, and crushed Oreo pieces. You can also order it as a Sonic Blast, meaning all the ingredients come blended together in a cup.
The Oreo dessert is available now for a limited time while supplies last, with prices starting at $2.49 (it varies by location).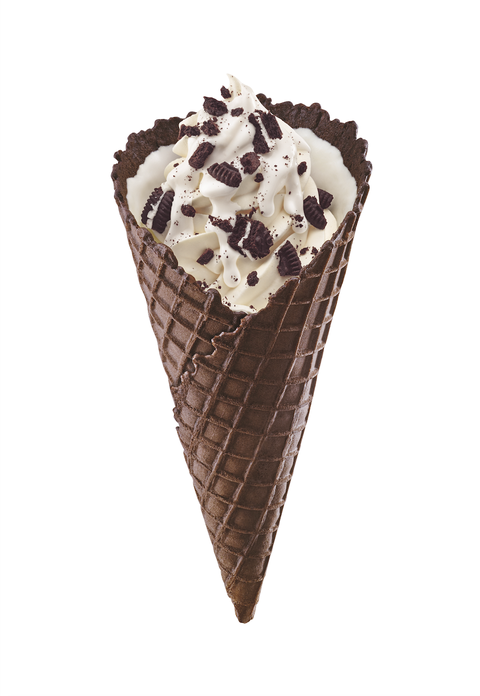 ORIGINAL POST: June 22, 2018 at 1:43 p.m.
With a new Oreo flavor coming out every few months, it can be hard to pick a favorite. But even with Cinnamon Bun and Jelly Donut trying to steal our attention, we'll always hold a special place in our hearts for a good ole Double Stuf. Sonic clearly picked up on the brand's the-more-creme-the-better memo when creating this fall's Double Stuf Oreo Waffle Cone.
Coming to stores in September, the cone spares no expense when mimicking a true Double Stuf. Sonic drizzles Oreo creme sauce inside a chocolate cone, fills it with vanilla ice cream (no soft serve here), then drizzles on more creme sauce. Once that's done, they pour a handful of crushed Oreo cookies on top. Can you think of a more summer scene than a man on roller skates wheeling this bad boy out to you?
You can order the crunchy cookies and cream cone as a blast too, if you prefer your toppings all mixed up. The dessert joins Sonic's enormous lineup of drinks and desserts, which includes soda floats, slushes, shakes, and blasts.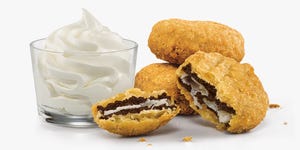 Source: Read Full Article