There have been many times in the last few months that I've had to turn to a meditation app to help me sleep.
With a long history of insomnia – often fuelled by anxiety – getting to sleep can be a fraught experience, especially after a stressful day.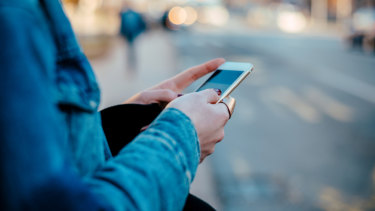 Some apps are great, and well worth your time and money, experts say. But others are a total waste of time — and some can even be dangerous.Credit:Shutterstock
Other than sleeping pills (been there, done that, not that great) not much works – other than an app which my boyfriend kindly puts on for me a few days each week to help me unwind.
The slow music, soothing voice and simple directions work a treat, and I find myself drifting off even before the five minute body scan is up.
Does this mean health apps work? Or am I just enjoying a soothing placebo effect?  Maybe; a recent VicHealth and Deakin University study found even the "good" apps (scientifically verified and not too costly) are not recommended to be used as a treatment on their own.
The 2019 study found that most health and wellbeing mobile phone apps currently available are not based on any scientific evidence, despite some costing as much as $50 a month.
After reviewing 348 health and wellbeing apps, the researchers gave a whooping 75 per cent of the apps a score of 2.5 stars or less (out of five).
Some are great, and well worth your time and money, experts say. But others are a total waste of time – some can even be dangerous.
And while getting general health and wellness apps right (such as those designed to quit smoking, Smoke Free and Quit Genius; control drinking, Daybreak; and activity and fitness tracking app Fitbit, which are some of the best on the market) is a priority, making sure mental health apps are science-based is just as – if not more – crucial.
A 2018 Harvard University paper compared evidence-based mental health apps to traditional psychiatric treatment for depression, anxiety, and schizophrenia, and found that apps did, in some instances, indeed help.
Mental health apps were particularly useful for those suffering from mild to moderate depression, as well as people suffering from anxiety, especially when combined with face-to-face or internet-based therapies.
The paper outlined four key criteria that must be present in an effective app, including: ensuring high patient engagement; simple user interface and experience; a program that is applicable across a range of anxiety-related and emotional disorders; and self-monitoring features to help users increase emotional self-awareness.
According to VicHealth and the Black Dog Institute, some of the best mental health apps include:
Unwinding Anxiety: a mental wellness app that aims to help the user control their anxiety;
Headspace: a guided meditation and mindfulness app;
HeadGear: a mental fitness app that focuses on mental health;
Joyable: a mental health and wellness app based on the principles of Cognitive Behavioural Therapy (CBT);
Snapshot: an app designed for Australian adults to check and monitor their mental health and wellbeing status.
However, not all apps are helpful.
According to the American Psychological Society, an app can be harmful if it offers incorrect or misleading information (i.e. telling bipolar people to drink alcohol); if it claims to offer therapeutic interventions or service but is actually ineffective; does not adequately secure health data; and is not clinically useful due to having no evidence base.
"Without an evidence base, we don't know if the apps are actually going to help people," says Dr Mark Larsen, research fellow at the Black Dog Institute, who has been studying health apps since 2004.
"From our research looking at the content of publicly available apps, we also know some of these non-evidence based apps may have the potential to do harm."
Dr Larsen says technology has evolved to the point where anyone can release their own app – without undertaking rigorous research first.
With mental illness a huge problem in Australia – the Australian government spent $9 billion on mental health in 2015-16, and one in five Australians aged 16-85 experience mental illness each year — getting treatment right is crucial.
Dr Fiona McKay, the lead researcher from the VicHealth and Deakin University study, said that while apps can "complement other forms of care, they should never be used as a replacement".
A 2018 US study found that some ads for apps were effectively telling people they had mental health problems when they didn't.
"While there are some good apps out there, a lot of apps just don't have the features that will help people to be healthier.
"We would suggest that people take their time to look into any app that they are planning to use, and take advantage of any trial period before signing up," she said.
The way that health apps are advertised to the public is also important, and something that's not usually discussed.
For example, A 2018 US study that looked at how mental health apps are advertised found that ads were effectively telling people they had mental health problems when they didn't, as well as implying that it was up to individuals only to take care of their mental health.
From their content analysis, researchers identified two dominant messages about mental health: that poor or fragile mental health is ubiquitous, and that individuals can easily manage their own mental health problems with apps.
Worryingly, they found that messages echoed – and potentially even drove – the tendency to overdiagnose normal feelings as symptoms of declining mental health.
"Diagnosing mild or temporary symptoms as illness, where that diagnosis brings no patient benefit, is problematic. It can lead to unnecessary treatment and divert resources from those who really need help," the researchers concluded.
That said, "apps can greatly complement face-to-face therapies by giving people tools to track their mood over time," Dr Larsen says.
Consumers should look for apps developed by reputable organisations such as research institutes and universities.
"For instance, Black Dog Institute's Snapshot app can help users identify patterns in their mood and how certain lifestyle factors influence their wellbeing".
So how to pick the right app, especially in mental health?
"Consumers should look for apps developed by reputable organisations such as research institutes and universities, as these are the most likely to have gone through rigorous testing and are developed using the latest research," Dr Larsen says.
"Smartphone apps have great potential for delivering mental health interventions: they are low-cost, ubiquitous, accessible 24/7 and confidential.
"However, given the discrepancies in app quality and the sheer number of products released to the market every day, we are yet to see apps widely included in formal mental health treatment plans."
Source: Read Full Article