Breaking the mold. Hilaria Baldwin is standing by her choice to publicly share her potential miscarriage because it'd be "harder to do it silently."
"It's something so many people deal with it, and as women we're trained to deal with it silently," the yoga instructor, 35, said on the Today show on Tuesday, April 9. "You're definitely not supposed to say anything before 12 weeks. Some of that is because people are superstitious or that's how they feel they're gonna be stronger. A lot of it, for other people, is from fear. I don't think that we have to live with such fear."
The Living Clearly Method author added: "For me, personally, it would be harder to do it silently. … Secrets are only scary when they're secrets. Once you let the secret out, it's not so scary anymore."
The fitness guru, who shares Carmen, 5, Rafael, 3, Leonardo, 2, and Romeo, 10 months, with her husband, Alec Baldwin, revealed that she was carrying her fifth child on Thursday, April 4 — but would likely miscarry.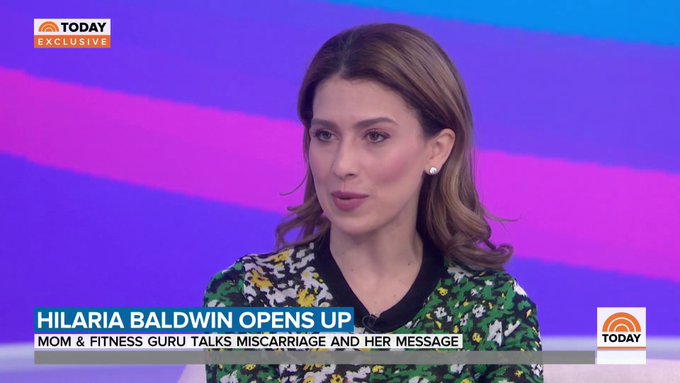 By playing this video you agree to Twitter's use of cookies
This use may include analytics, personalization, and ads.
"This is something that has not been easy… I wanted to come out and speak about it because it's something that so many people deal with." @hilariabaldwin on why she publicly shared her story of a potential miscarriage
"The embryo has a heartbeat, but it isn't strong, and the baby isn't growing very much," she captioned her lengthy Instagram post at the time. "The chances are very, very small that this is a viable pregnancy."
She opened up about this with Hoda Kotb and Savannah Guthrie on Tuesday. "Anybody who has had children or multiple children knows that you have your scans and your different appointments and [when] there's the good news, they're always very chipper and say wonderful things. Then there's the silence, and the silence makes you very nervous. So this technician kept on being quiet and kept on trying to find the heartbeat. She could find it [but it was] very spread apart, kind of slow."
While Hilaria is "pretty sure" her pregnancy is not going to stick, she believes that as a parent she needs to "accept the good and the bad."
"It's not just all diapers, blankets and hairbows," she said. "We have to open our hearts and realize that there's gonna be hard moments, too."
Alec showed support for his wife on Thursday with an Instagram post. "My wife is kind and generous in her support of other women," the Saturday Night Live star, 61, wrote.
Source: Read Full Article